Skilled And Proven Legal Counsel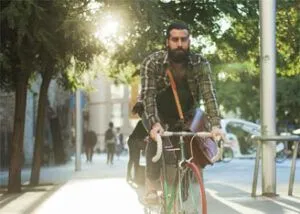 Cycling has become more and more popular in recent years in the Tri-Valley, Alameda County and other parts of the Bay Area. Unfortunately, many drivers still fail to respect the rights of cyclists, and as a result serious and fatal accidents ensue.
Motorists neglect to check their blind spots for bicycles and to give them enough space. They make left-hand turns without checking bike lanes. They roll through stop signs. They speed through red lights. These reckless actions can mean fatal consequences for a cyclist.

If you were hit by a car while riding your bike, I can help. At PAR Law Firm in Dublin, California, I aggressively advocate for the rights of cyclists. I work with them to hold negligent drivers accountable and get the compensation they need to recover.
What You Can Recover
I represent victims of bicycle accidents on contingency. I will only charge lawyers' fees if I obtain compensation for you.
As your personal injury lawyer, I will fight for full and fair financial compensation for you. This includes:
Past and future medical expenses
Rehabilitation costs
Lost wages
Lost earning potential due to disability
Pain and suffering
Some bike accident victims choose to handle their injury claim with the insurance company directly. It is important that you understand it is in the insurance company's interest to limit your claim. Insurance agents and adjusters are not on your side.
At PAR Law Firm, I have an insider's perspective on insurance defense strategies and I use this to my clients' advantage — I am a former insurance defense attorney.

Schedule a free consultation with an experienced lawyer before giving an insurance company a recorded statement or signing any papers. A skilled attorney will help you understand your rights and options, so you can make the best possible decisions about your case.
Call 925-829-1117 to talk to a lawyer at PAR Law Firm during a complimentary, no-obligation consultation.
If you choose to work with my law firm, you will have me in your corner, and you can call me directly when you have a question.
Russian, Hindi, Punjabi and Spanish language services are available.
While this website provides general information, it does not constitute legal advice. The best way to get guidance on your specific legal issue is to contact a lawyer. To schedule a meeting with an attorney, please call or complete PAR Law Firm's intake form.