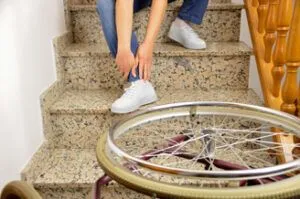 Legal Guidance From An Experienced Premises Liability Attorney
Property owners and operators have a legal obligation in California to keep their premises free from known hazards. This means they have to take reasonable steps to ensure visitors are safe. They must maintain parking lots, keep adequate lighting in good repair and have clear walking paths, among other things.
When property owners neglect to do such basic things, people can suffer serious injuries, from broken bones, to back or even head injuries. Wet floors, cluttered walkways and dimly lit properties pose significant risks to visitors, and property owners can be held liable for injuries.
At PAR Law Firm in Dublin, I represent slip-and-fall injury victims in Alameda County and throughout the Tri-Valley and the surrounding areas. If you have been injured on someone else's property, call 925-829-1117 to learn how I can help.
Were you hurt in the home of a family member or friend? Homeowners carry insurance for a reason — and this is it. Do not feel guilty talking to me about filing a claim. You are not going after someone you care about; you are only asking his or her insurance company to honor a policy.
The PAR Law Firm Difference
At PAR Law Firm, I truly care about my clients and their recovery. If you need medical care but cannot afford it before getting compensation from the property owner, I will help you understand your options to receive care now.
I also charge no lawyer's fees to slip-and-fall victims until I make a financial recovery for them. This means I do not get paid until you get paid.
When you work with my firm, I will keep you informed about the status of your case every step of the way.
Schedule A Complimentary Case Review Today
If you have been injured in a trip-and-fall accident, the chances are high that the property owner or its insurance company will aim to limit its liability by twisting your words or pressuring you into signing paperwork without a lawyer present.
You should make sure you understand your options before deciding to work directly with an insurance company or property owner. Schedule a free consultation with my firm before talking to an insurance agent.
To talk to a lawyer at PAR Law Firm about your options for free, please call 925-829-1117. You will not be under any obligation to hire me during or after your free consultation.
Russian, Hindi, Punjabi and Spanish language services are available.
While this website provides general information, it does not constitute legal advice. The best way to get guidance on your specific legal issue is to contact a lawyer. To schedule a meeting with an attorney, please call or complete PAR Law Firm's intake form.